This page includes frequently asked questions (FAQs) about Brad Bayliff, hiring a lawyer, and your relationship with Bayliff Law Firm PLLC.
About Brad Bayliff
What are these peer reviews and professional recognitions?
Board Certified in Administrative Law. Board Certification is a mark of excellence and a distinguishing accomplishment. A lawyer who obtains Board Certification has, and demonstrates, substantial, relevant experience in a select field of law and tested, special competence in that area of law. Texas has over 100,000 licensed attorneys. Only 7,400 earned the right to be Board Certified specialists in one of 22 select areas of law. The TBLS is the only organization authorized that provides this service to the citizens of Texas.
The Board Certification process is rigorous and thorough with stringent, ongoing requirements after initial certification. An applicant must:
have been in practice at least five years with three years of substantial involvement in an area of law,
complete TBLS-approved Continuing Legal Education course requirements,
furnish at least 10 qualified, vetted references,
provide extensive, relevant experience documentation and
pass a comprehensive, daylong, specialty area examination.
AV® Preeminent™: The highest peer rating standard. This rating signifies that the lawyer's reviewed peers rank him or her at the highest level of professional excellence for their legal knowledge, communication skills and ethical standards. Martindale-Hubbell™ has been rating lawyers for 130 years.
NITA® Advocate – The NITA® Advocate completes intensive, multi-day hands-on programs in case development, deposition skills, and trial advocacy skills. Highly-skilled faculty utilizing NITA's renowned methodology teach all classes. The National Institute for Trial Advocacy's team of practicing lawyers, professors and judges dedicates its efforts to the training and development of skilled and ethical legal advocates to improve the adversarial justice system.
Texas Bar College – The Texas Bar College is an honorary society of lawyers among the best trained attorneys in Texas. Members are qualified attorneys interested in both high ethical standards and improved training for all Texas attorneys.
What do your board certification, NITA Advocate designation, Martindale-Hubbell rating, and membership as a Fellow in the State Bar College mean to me?
These peer reviews and professional designations recognize my skills and expertise. They are independent sources you can use to evaluate me. I use the skills and knowledge they recognize daily when I represent my clients.
To what bar associations do you belong?
I am a member of the Austin Bar Association, the State Bar of Texas, the Federal Communications Bar Association, and the American Bar Association.
Have you solved a legal problem like mine before?
Without knowing your specific facts and circumstances, I cannot answer this question. If you have a matter before the Public Utility Commission of Texas, I probably have been involved with a situation like yours.
Especially, if you are a landowner concerned about a transmission line being located on your property. If you are a telecom company, I probably have been involved with a legal problem like yours. I have represented CLECs and cable companies before the Public Utility Commission of Texas and commissions in other states. I even helped with an interconnection issue that went all the way to the U.S. Supreme Court. If you are a retail electric provider (REP) in Texas, I can help you. I have represented several clients on issues ranging from transfers of control to consumer complaints and PUC staff investigations.
Besides representing competitive telephone companies and retail electric providers at the PUC, much of my practice involves representing landowners whose property may be affected by proposed transmission lines. In those cases, I have represented clients ranging from individual landowners to developers to groups of over 200 landowners.
How do I know you can solve my problem?
Please look at my recognized experience and expertise. Then, talk with me about your problem and ask me that question during our conversation.
Where is your office?
My office is on a ranch outside of Blanco in the Texas Hill Country.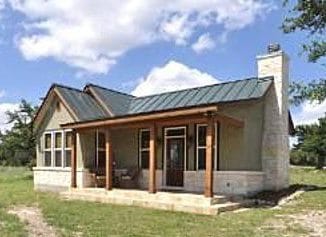 The office in Blanco County is my principal office and I spend most of my time there. I love being close to home and the ability to have lunch with my wife most days. Another benefit of the Blanco County office is being able to look out my window and see songbirds, deer, foxes, and wild turkeys.
I usually visit my landowner clients at their property. It is important for me to see the features of their property and the local community. That visit usually gives us a chance to get to know each other and for us to discuss the PUC's process for reviewing applications for new transmission lines in an informal setting. It also gives the landowner the opportunity to emphasize important parts of their property that I often would not understand as clearly in telephone calls, emails, or pictures.
As an example of what I can see when I visit a study area, which property below looks like a better place to construct a new transmission line?
[one-half-first]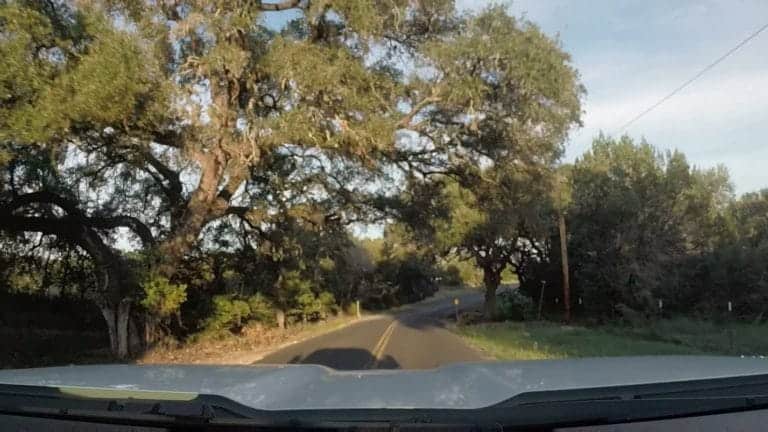 [/one-half-first]
[one-half]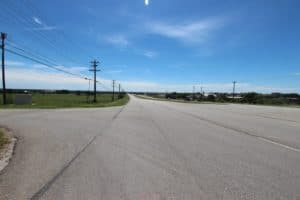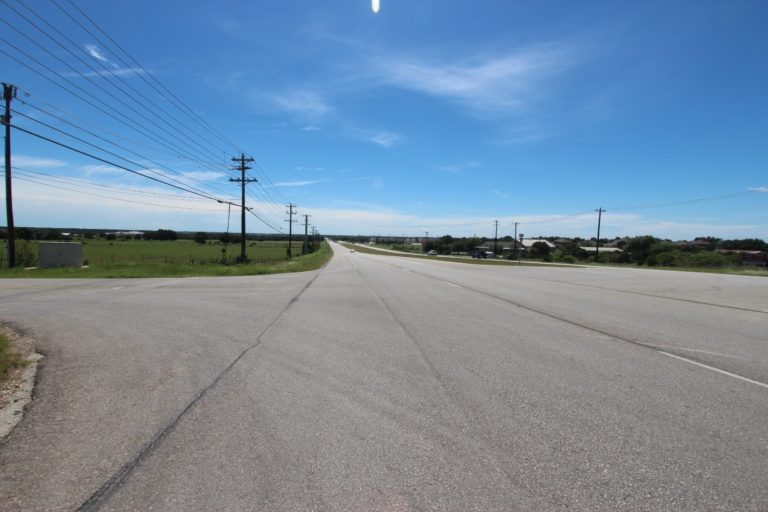 [/one-half]
Why did you become a lawyer?
Why did you become a Texas PUC lawyer?
When I was in law school, I was a member of the staff of the Federal Communications Law Journal. The FCLJ is the journal of record for the Federal Communications Bar Association. After the passage of the Federal Telecommunications Act in 1996, competition in the telecommunications market was expanding and competitors to the large telephone companies needed lawyers to advocate for them before state utility commissions. It was an exciting time and a great start to my legal career. I've continued to practice before the Public Utility Commission of Texas and like working with my clients.
Hiring a Lawyer
Why should I hire a lawyer?
Deciding whether to hire a lawyer, and choosing the right representation for you, is an important decision. Your decision is a big part of a successful resolution of your legal matter. Sometimes, parties may represent themselves at the PUC. It often requires reading thousands of pages of documents, trying to understand those documents, and significant time to respond to discovery and present their case, attend hearings, and prepare legal briefs for the administrative law judges and the PUC commissioners.
Why should I hire a lawyer familiar with the PUC?
The Texas PUC lawyer you choose makes a difference. Lawyers specialize in the services they provide their clients. No attorney can keep up with all areas of the law. There are too many complexities and factors that affect results. Good lawyers who practice in other areas of the law and in their local communities often are not familiar with the PUC's rules and the ways to present their clients' cases. I am unique even among lawyers who practice administrative law because I have practiced before the PUC since 1999. I am familiar with the PUC's rules and the hearing procedures at the State Office of Administrative Hearings (SOAH) where many PUC contested case hearings are held.
You say "The lawyer you choose makes a difference." What do you mean?
Not all lawyers are the same – your choice does make a difference! Lawyers have different levels of expertise and competence. There is more to selecting an attorney than choosing the first name in a Google search or the biggest ad in the Yellow Pages. Call or meet with me – we can discuss this in more detail.
What are the phases of the legal process?
The American Bar Association and other parties developed a codeset of the litigation process that applies to contested cases in administrative law. If you have more questions about this process, please talk with me.
Case assessment, development, and administration
Pre-trial pleadings and motions
Discovery
Trial preparation and trial
Appeal
How can I choose the right lawyer to represent me?
You can take many actions to evaluate potential attorneys. I suggest you consider these questions and actions:
Talk with them.
Ask for references.
Look to see if they have expertise in the area of law in which you need representation.
Look for information the lawyer has written, including a blog.
Does the attorney listen well?
Does the attorney understand your problem or have to do research?
Can the attorney explain the law and how it applies to you?
Ask about your chance of success and risks.
How will the attorney update you on your case?
Does the attorney give you confidence your problem can be resolved in a cost-effective way?
Will the attorney delegate responsibility to other attorneys or support staff? How do those employees treat you?
Ask for references and check them out.
Review the attorney's contract for legal services.
Ask the attorney to explain charges for time and expenses and whether you must provide a retainer.
After your research, the decision on who to hire is yours. Your instincts should help guide you. Rapport is important in an attorney-client relationship. Select an attorney with whom you feel comfortable and can trust.
What are conflicts of interest?
Conflict of interest is a concern for lawyers and clients. I attempt to identify actual and potential conflicts at the outset of any representation and may ask you to sign a conflict waiver before I agree to represent you. Other clients or prospective clients may ask me to seek a conflict waiver from you so I can represent them. Please do not take that request to mean I will represent you less zealously; I make those requests because I take seriously my professional responsibilities to all clients and prospective clients.
Conflicts sometimes arise or become apparent after work begins on a representation. When that happens, I do my best to address and resolve the situation in the manner that best serves the interests of all of my affected clients. Sometimes, I may feel compelled to withdraw from your representation prior to the substantial completion of the matter, such as developing an irreconcilable conflict of interest between you and some other client of the firm, or your failure to pay my fee and expense invoices when due, to name two possibilities. In the event I withdraw from the representation prior to the substantial completion of the matter, I will strive to make transition of your legal business to a successor law firm smooth.
Rules concerning conflicts of interest vary with the jurisdiction. To avoid any uncertainty, my policy is that the Texas Disciplinary Rules of Professional Conduct will apply to the representation.
What is attorney-client privilege?
The attorney-client privilege is the right of clients to refuse to disclose confidential communications with their lawyers or to prohibit their lawyers from disclosing them. Because of this privilege, you can give us all the facts relevant to your matter without fear those facts will become public. The attorney-client privilege is your privilege, not mine, so only you can waive it. Not all attorney-client communications are privileged. The privilege only arises when a client reveals information in confidence to obtain legal advice or services. Legal ethical rules define the limited circumstances in which we can disclose privileged information. If you have any questions about attorney-client privilege, please talk with me about them.
Your relationship with Bayliff Law Firm PLLC
Can you give me an idea of what you'll do to solve my problem or must I hire you first?
Early in the process, clients often have uncertainty about the process and what is necessary to appear before the PUC. Helping you reduce your uncertainty about the process is part of my job and it will help our relationship.
When we talk, I can give you an idea of what is required to present your case to the PUC. We also can discuss other cases when I've represented clients in your position. Or, even other cases before the Commission.
What will you do for me if you are my lawyer?
My clients want my advice and representation of them in PUC proceedings. My experience and ability to understand their case and the PUC's rules allow me to advise clients on how to proceed with their case. I regularly call and email clients to update them on the status of their case. I also have state-of-the art technology to provide  summaries of applications, motions, testimony, and orders. In cases where there are several parties, I help collaborate with other parties to present a coordinated and more efficient case. I believe I provide superior service to my clients through careful consideration, collaboration with other parties, and confident and knowledgeable representation.
The actual activities vary from case to case. For applications, my work usually involves consulting with the client, preparing the application, and monitoring the PUC's processing of the application. I also confer with PUC staff if they have questions. In rulemakings, we work together to prepare your comments and participate in the public meetings. Sometimes, we meet with PUC commissioners or staff to discuss the proposed rule.
In contested cases, I usually enter an appearance so the PUC and other parties know I represent you. I attend and participate in prehearing conferences, settlement conferences, and hearings. I prepare discovery (questions for other parties) and help you respond to discovery other parties serve on you. I also assist in deciding whether to retain an expert to assist with your case and with identifying the right expert for the case. PUC cases rely on prefiled written direct and rebuttal testimony. I assist with that process.
I'll prepare for the hearing and cross-examine other parties' witnesses at the hearing. If you or your expert is required to attend the hearing to be cross-examined, I will prepare you and defend you during your cross-examination. After the hearing, I will prepare legal briefs for the administrative law judges. Those legal briefs summarize the PUC's rules that apply to the case and why the administrative law judges should support your position.
After the administrative law judges issue a proposal for decision, I will file exceptions to the proposal or replies to other parties' exceptions. Then, I will attend the PUC Open Meeting to consider the proposal for decision.
How will you keep me informed about my case?
Things often move quickly and there will much to discuss as discovery is taking place, testimony is being drafted, and preparations are under way for a hearing. Often, settlement discussions take place that require communications with my client. I will strive to keep you informed when anything important happens, in the way that is best for you. You can expect me to respond to your email or phone calls in a reasonable time. I also will keep you updated when you are required to respond to discovery or be present at a hearing.
May I contact you if I have a question about my case?
You should have questions. I encourage you to ask them and talk with me about them. A critical part of the lawyer-client relationship is full, free, and open two-way communication. An important part of that conversation is identifying what you want from my representation.
I will listen to your concerns and the information you provide. Email or call me. I will respond soon. Sometimes, your question will help me develop your case.
How may I contact you about my case?
Call or email me. I understand the importance of communication between a lawyer and a client. I often rely on early conversations with my clients to develop their case. Many contested cases are completed within one year of applying, so things move quickly. My clients have my cell phone number and can reach me when they must talk about their case. Of course, you also can email me anytime.
Who will work on my case?
Brad Bayliff is the attorney who will work on your case.
What fee arrangements are possible?
I usually bill fees on an hourly basis for work performed for your representation but other options are available.
Hourly fee: I base fees on an hourly rate for services rendered. I regularly will send you a detailed, itemized bill showing work done on your case.
Flat fee: Your legal fee is a stated sum for agreed-upon services.
Retainer: I usually require a retainer to begin working on your matter. I will send you bills periodically showing your charges and payments and the balance of your retainer.
What will your legal services cost?
Fees and case expenses vary greatly. Each representation involves determining the need for a retainer and a discussion of expected fees. I encourage a frank and open discussion about fees when you retain me to represent you.
Much of the cost depends on the case you want me to present to the Commission. Other factors include: whether your property is on the utility's recommended route, the number of represented parties in a case, and whether others actively promote a route that includes your property.
From your first contact with me, and throughout the case, I will involve you in the decision-making process. I am your attorney and will guide you but the case is your case. If you want, you will be included in many of the decisions about your case. As part of this process, I will work to inform you what your fees will be.
I will discuss with you the options for services and the benefits of services. I try to keep legal fees reasonable and always consider the value my client receives for my charges. The services required, however, are not fully within my control. Sometimes, however, services are directly related to an opposing party's action or inaction.
What about litigation expenses and out-of-pocket costs?
Besides legal fees, you must pay expenses to others to prepare your case. For example, we usually incur costs for copies and also pay for experts, messenger services, and transcripts of hearings. Generally, the amounts of these charges will be in direct proportion to the complexity of the matter involved. The easier your matter is to solve, the less these costs usually will be.
At the start of your legal matter, I will try to estimate for you out-of-pocket expenses I may incur on your behalf. I will discuss with you the expenditures I will make on your behalf to further your case.
Do you guarantee results of a case?
I cannot guarantee success on any matter. I do not guarantee that I will obtain any result. If I express my judgment regarding your matter or the potential outcome, I will base it on the law then and limited by my knowledge of the facts. My judgment is subject to any unknown or uncertain factors or conditions beyond my control.
What are your professional obligations to me?
I conduct my practice under, and advise my clients of, the Texas Disciplinary Rules of Professional Conduct and the contents of the Texas Lawyer's Creed. I advise clients that the State Bar of Texas investigates and prosecutes complaints of professional misconduct against attorneys licensed in Texas. A brochure entitled Attorney Complaint Information is available upon request. A client that has any questions about the State Bar's disciplinary process should call the Office of the General Counsel of the State Bar of Texas at (800) 932-1900.
Do you represent only one client at a time?
No, I represent many companies and individuals. Sometimes, the rules of professional conduct may limit my ability to represent clients with conflicting or potentially conflicting interests. Those rules of conduct often allow me to exercise my judgment to determine whether my relationship with one client prevents me from representing another. In other situations, I may be permitted to represent a client only if the other clients consent to that representation.
If a controversy unrelated to the matter of the representation develops between you and any other client of the firm, I will follow the applicable rules of professional responsibility to determine whether I may represent either you or the other client in the unrelated controversy.
Can you represent multiple parties in a case?
The representation of more than one party (commonly referred to as a "joint representation") presents special ethical considerations for lawyers. Our Standard Terms of Representation discuss these considerations in greater detail. The Texas Disciplinary Rules of Professional Conduct permit the joint representation of multiple clients when the law firm can represent the interests of each client adequately and when each client knowingly consents to that representation. A joint representation provides certain strategic benefits and cost advantages, or savings, over the costs otherwise incurred when each party retains separate counsel. If you learn of another potential client, or if another potential client contacts us regarding representation, I will discuss the possible representation with you.
How are fees and expenses shared in a joint representation?
The firm will apportion charges for joint representation in a matter in the way my clients and I agree in their Agreements for Legal Services. Each of the joint representation clients is jointly and individually responsible for payment of all fees and costs associated with the joint representation. Should one client not pay its share of joint fees and costs, the other client(s) will be responsible for payment to the firm of the charges to the defaulting client.
Does joint representation affect attorney-client privilege?
In an ordinary attorney-client relationship, information the client gives to the lawyer in confidence as part of the representation may be privileged information. That is, the lawyer may not disclose that information to any third party without the client's consent. The attorney-client privilege also exists in a joint representation, at least regarding third parties. The privilege extends to protect the confidences of the entire group from unauthorized disclosure to any person who is not a member of the group.
In a joint representation, however, the attorney-client privilege does not permit the lawyer to keep confidences or secrets of any member of the group from any other member of the group. Information that either one of you provides to me for a joint representation will be available to both or all members of the group.
Do you use modern technology in your practice?
To enhance the efficiency of my practice, I use a variety of technologies, including third party cloud-based platforms, to store documents, communicate with clients, maintain case information, and other activities. I exercised due care in selecting vendors whose security and management practices meet or exceed ethics requirements and engage in ongoing monitoring and oversight of their services. My clients consent to using these services to store their files, communicate with them, and carry out other necessary tasks related to representation.
Are there risks to using modern technology?
There are significant risks that sending or receiving electronic communications using a computer or other device, or e-mail account, may allow a third party to gain access to your communications with me. If you have concerns about the confidentiality of your electronic communications, please request that I arrange to send to you, and to receive from you, encrypted electronic communications.
Do you retain paper copies of all the documents in a case?
My office maintains most client files and documents in digital format only. If you provide me with, or I receive, paper copies or original documents, I can scan the documents and send the originals to you if you wish.
How do I hire you to be my lawyer?
Choosing a lawyer is a big decision. First, call or email me so I can learn more about your case and you can learn how I can help you. I will not charge you for our initial conversation and you will not be obligated to hire me. Besides talking about your case, we will discuss my fees and my retainer policy.
After we talk and you decide you want to hire me, I will need to confirm I do not have any conflicts of interest that prevent me from representing you.
Of course, there is paperwork. I have an Agreement for Legal Services that you and I both sign. I'll provide you with a sample and you can review it before you decide to hire me to represent you. The Agreement sets out your and my duties. The Agreement will identify the nature of my representation of you, names of other expected parties, and other information that define our attorney-client relationship.
Can I terminate your representation?
If you become dissatisfied with my work, please tell me so I can resolve the situation.
You may terminate my representation, with or without cause, by notifying me in writing. Termination of my services will not affect your responsibility for payment of legal services and other charges incurred before termination and for an orderly transition of the matter.
If you discharge me before the matter is substantially completed, I expect you will retain other counsel to provide legal services through its completion. In that event, I will cooperate with you and your other counsel to effect as smooth a transition of legal services as possible.
What about money in your trust account?
Some legal matters require me to hold monies in trust or in escrow for a client for weeks or months at a time. The Texas Disciplinary Rules of Professional Conduct prescribe my actions. I must segregate any retainer in a trust account on your behalf separate from my funds until I earn payment for services or expend funds for designated disbursements. In Texas, as in most states, lawyers must submit interest on a retainer to a non-profit entity that provides legal services to the poor.
What are the lawyer's rights?
The lawyer has the right to control tactical decisions in litigation and the right to decide whether to accede to reasonable accommodations requested by opposing counsel. The lawyer may refuse to carry out client instructions that would require the lawyer to violate the Texas Disciplinary Rules of Professional Conduct. The lawyer is entitled to compensation under the Agreement for Legal Services and has the right to withdraw from the representation in the circumstances set out in Texas Rule of Disciplinary Conduct 1.15.
Click to call Brad Bayliff now at (512) 225-0027